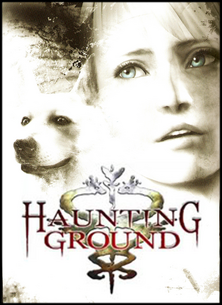 Welcome to the Haunting Ground Wiki!
Welcome to the realm of Haunting Ground, this is an encyclopedia of everything to do with Capcom's breathtaking survival horror game for the Playstation 2. We are still in the early stages of this encyclopedia to help you understand the world inside Belli Castle so please hang tight and hopefully this Wikipedia page will contain all you need to know in the future!
Inside the halls of Castle Belli...
This spine-chilling survival horror game is set in a mysterious castle that has become a prison for two innocent characters -- an orphaned young girl named Fiona and a white shepherd dog. Though Fiona is a physically weak character, she must use her wit and cunning to unravel the castle's puzzles and figure out what is happening and why. Together with the dog named Hewie, she must utilize each other's strengths if they hope to escape from their horrifying surroundings and the deranged man stalking them named Debilitas. Haunting Ground was released in Japan under the title Demento.